"Forgot Password" currently does not support your browser version.
If available, we recommend you use Firefox or Chrome to reset your password. We understand the inconvenience this may cause and are working on providing support for your browser in the near future. Thank you for your understanding.
As an alternative, you may continue to use Internet Explorer; however, it requires you to temporarily enable Compatibility Mode while resetting your password. Please follow the instructions below to enable and disable Compatibility Mode.
Enable Compatibility Mode:
Click the "Gear" icon located at the top right corner of your browser and Select "Compatibility View settings".




Click the "Add" button. ("ul.com" should be pre-populated, but if not, enter "ul.com" to the "Add this website:" text box.)




Confirm "ul.com" is shown under "Websites you've added to Compatibility View:". Click the "Close" button




Please note: You may see the following warning message when you go to the "Forgot Password" page with Compatibility Mode enabled. Please disregard this message and continue by clicking the "OK" button.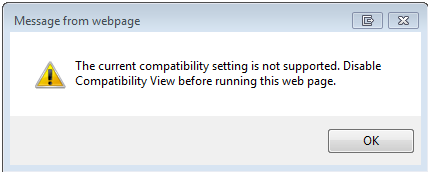 After completing the password reset, please disable Compatibility Mode:
Please follow the instructions above to return to the "Compatibility View Settings" window.
Select "ul.com" and Click the "Remove" button.




Click "Close". To return to your browser with Compatibility Mode disabled.



Reference:http://windows.microsoft.com/en-us/internet-explorer/use-compatibility-view#ie=ie-11